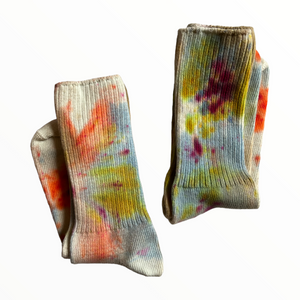 Cotton Socks in Fête
Sale price Price $18.00 Regular price
Hand dyed socks. Super soft and breathable. Midweight with stretchy ribbed leg. Made with cotton.
Unisex and one size fits many.
Each pair is one of a kind. All socks are dyed in the same natural dye batch and will be in the same color palette shown with variations in pattern. 
Ready to ship.