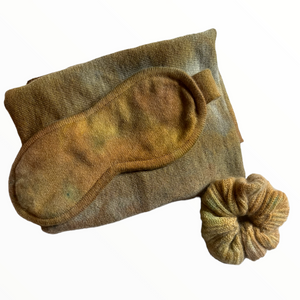 Cashmere Travel Set in Lichen
Sale price Price $228.00 Regular price
What could be more luxurious? Our hand dyed travel set is made with 100% cashmere and includes a square scarf, sleep mask, and scrunch. Hand dyed in our studio in NC.
The square scarf measures approx. 40"x40"and is a featherweight, bandana style scarf. Can also be draped like a shawl or used as a travel blanket. Great for spring layering as well.  Sleep mask is lined with silk on the inside. Silks benefits on the eyes include preventing wrinkles and retaining skin's moisture. Great for traveling, naps, and a night of rest. The cashmere scrunch is the icing on top, our personal favorite scrunch in our collection- Prevents breakage. Promotes healthier hair. Helps retain moisture in hair. Prevents kinks in hair. We also love the look of the knit scrunch.
This set is a limited edition holiday arrival with only 2 sets available. Online exclusive. Ready to ship.