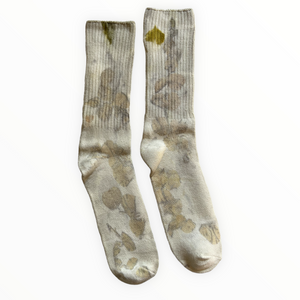 Bamboo Socks in Ecoprint
Sale price Price $24.00 Regular price
Hand dyed socks. Super soft and super stretchy. Made with bamboo rayon and a hint of spandex for stretch. 
Unisex and one size fits many.
Each pair is one of a kind. Hand dyed in our studio individually with natural dyes and plants. All socks are dyed in the same dye batch and will be in the same color palette shown with variations in pattern. These socks were dyed with eucalyptus and marigolds grown in our very own dye garden in NC.