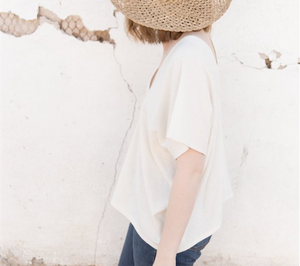 Aveline Silk Top in Various Colorways
Sale price Price $120.00 Regular price
The Aveline Top is a modern, simple cut designed to be a versatile staple piece in your wardrobe. The Aveline features a double v-neckline in the front and back. 
Hand made with Silk Noil.
Sizing :  Petite is 26" width and 25" length / Regular is 28-30" width and 26" length / Plus is 33" width and 27" length. 
Shown here in Ecru, silk noil's natural ivory color when left undyed. Also available in Black.
The Aveline Top is ready-to-ship. Please allow up to 5 days for processing, packaging, and carrier pick-up.